Good nutrition is important when it comes to staying healthy and ageing well. During winter, when cold and flu season is at its peak, eating a nutrient-rich, healthy diet not only helps prevent you from getting sick, but also helps you recover quicker. At Home Care Assistance your health and wellbeing is our priority, which is why we value healthy eating and making sure you are supported nutritionally, under our care.
Despite the importance of eating well, it is estimated that 30% of people living independently who are aged 60 or over, are at risk of malnutrition.[1] Part of the reason for this is because as we get older, we need less food to sustain us, but not eating foods that are higher in nutrients, can result in malnutrition and illness. Protein is an important component as we age, especially when it comes to building, repairing and maintaining healthy bones and muscles.[2] Although the cold, winter weather might make it difficult to get out and about as much, what better way to utilise that time by spending some extra time in the kitchen cooking up healthy and nutritious food. At Home Care Assistance, our dedicated Care Workers are on hand to assist with any food prep or chopping that you may find too difficult, as well as offer great companionship in the kitchen!
The other handy thing about preparing food for winter, is making enough in advance and freezing it in portion-sized, airtight containers. Preparing and storing meals this way means you have easy, healthy options that simply need to be defrosted and heated up, ready to eat in no time at all. Remember to always cool the food to room temperature before putting it in the freezer and when re-heating, make sure it defrosts and heats all the way through.
Comforting winter foods that freeze well include pastas, roasts, stews and soups. Soups are particularly great to freeze, as not only are they packed full of nutrients, but are also easy and convenient to reheat, like the two recipes we've included below. Eating well and staying healthy this winter will stand you in good stead when it comes to fighting colds and flu.. Not sure how to start or need help? At Home Care Assistance, our dedicated Care Workers will happily assist with meal prep and planning, help you cook and shop for ingredients, taking positive steps towards keeping you healthy this winter!
Support of an in-home care agency like Home Care Assistance, can bring enormous benefit and comfort to your quality of life while living independently at home.  Home Care Assistance has viable solutions when it comes to supporting independent living. For more information, get in touch with a Home Care Assistance near me today. 
Moroccan Red Lentil and Chickpea Soup[3]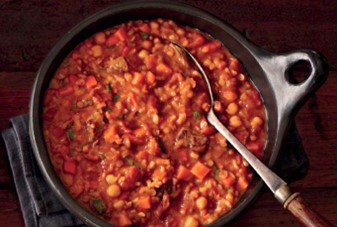 Ingredients
2 tbsp olive oil
400g lean beef or lamb, cubed
1 large onion, finely diced
3/4 cup dried chickpeas
2 litres salt reduced chicken stock or water
3/4 cup dried red lentils
1/4 cup long grain rice
1 red capsicum, deseeded & finely diced
2 carrots, finely diced
2 tbsp tomato paste
1 tbsp ground cinnamon
1 bunch coriander, chopped
black pepper to taste
2 400g cans salt reduced crushed tomatoes
Instructions
Heat oil and add meat. Cook until lightly browned. Add onion and cook until softened
Add the chickpeas and stock or water and bring to the boil, then simmer for 1 – 1 ½ hours, until the chickpeas are tender
Add the remaining ingredients, except the coriander. Simmer, stirring often, for 30 minutes or until all ingredients are tender
To serve, stir in chopped coriander and season to taste.
Beef, Barley and Vegetable Soup[4]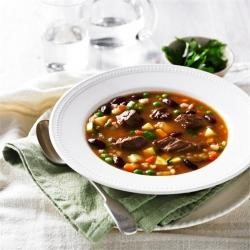 Ingredients
500g chuck steak (diced and trimmed of fat)
1 tablespoons (metric) olive oil
1 onion (chopped)
2 stalks celery (sliced)
2 carrots (chopped)
1 parsnip (chopped)
2 tomatoes (chopped)
1/2 cup barley
1L beef stock (salt reduced)
1L water
2 zucchini (diced)
400g can kiney beans (drained and rinsed)
1 cup frozen peas
Parsley (to serve)
Instructions
Toss beef in oil, heat a wide saucepan or stockpot over medium-high heat and brown beef in 2 batches. Reduce heat to medium and add onion, celery, carrot, parsnip, tomatoes and barley. Add beef stock and 1L water and bring to the boil.
Simmer for 2 hours or until beef and barley are tender. Add zucchini and kidney beans for the last 15 minutes of cooking. Add frozen peas for the last 5 minutes of cooking.
Serve in large bowls with fresh chopped parsley.
---
[1] https://www.cclhd.health.nsw.gov.au/wp-content/uploads/EatingWellANutritionResourceforOlderPeople.pdf
[2] https://www.betterhealth.vic.gov.au/health/healthyliving/Nutrition-needs-when-youre-over-65
[3] https://nutritionaustralia.org/recipes/moroccan-red-lentil-and-chickpea-soup/
[4] https://nutritionaustralia.org/recipes/meal/dinner-meal/beef-barley-and-vegetable-soup/
As a leading age care provider, Home Care Assistance offers tailored in-home care services for older Australians, enabling them to live happier and healthier lives in the comfort of their own homes. 
We offer private and government subsidised Care Packages and have office locations that are a registered NDIS provider. Our Care Workers undergo extensive training in order to deliver unmatched in-home aged care services where people can continue ageing in place. We are proud ambassadors of the My Aged Care government funded aged care program, enabling Australians to successfully navigate the process and gain approval for in-home care support packages. Home Care Assistance offers hourly care, specialised care, Alzheimer's and Dementia care, hospital to home care, and 24 hour in home care.