Home Care Assistance
Resources & Information

Wellspan Webinar Series

At Home Care Assistance, we believe in empowering people to be proactive and informed when it comes to their health. Our Home Care Assistance Wellspan Webinar Series brings experts from a diverse spectrum of health and wellness fields to our clients and the wider community in an engaging and informative format. The webinars are offered free to the public as part of our broader education initiative, through which we actively provide information and resources around topics related to ageing, wellness and quality of life.
Swipe Left / Right For More
Senior Care in the Age of a Pandemic

With information surrounding this pandemic changing by the hour, it's challenging to stay updated on the most recent best practices for keeping seniors safe at home or in communities. Join Home Care Assistance and Seniorly for a webinar featuring Dr. Milana Boukhman Trounce, Physician, Biosecurity

Expert, and Clinical Professor of Emergency Medicine at Stanford University to get these important questions answered.

Coping Through the Holidays

This webinar will cover tips, strategies and coping mechanisms for care workers to utilise during the holiday season.

Rick Lauber is a former co-careworker for his ageing parents who were diagnosed with Parkinson's, Leukemia, and Alzheimer's disease.

As a care worker, he was able to navigate through the challenges that caregivers endure and experience while providing care. During his journey, he used his writing as a coping mechanism and decided to share his experiences with others by becoming an author. He has written two books: Care Worker's Guide for Canadians and The Successful Care Worker's Guide.

A Care Workers Crosswalk to Navigate the Journey of Dementia

Claire Webster shares a passion for guiding and supporting those providing care to their loved

ones affected by forms of dementia. In collaboration with McGill University's Faculty of Medicine, Claire works to develop and facilitate dementia education workshops for family care workers, health care professionals and medical students.

The Importance of Self-Care

This webinar will cover various forms of self-care and strategies to connect the mind and body for optimal wellness. Julia Abbott shares a passion for teaching different styles of yoga and self-care exercises.

Seven Steps to Managing Your Memory

The "Seven Steps to Managing Your Memory" webinar covered how individuals can distinguish changes in memory due to Alzheimer's versus normal ageing, what medications, vitamins, diets, and exercise regimes can help, and the best habits,

strategies, and memory aids to use, in seven simple steps. Andrew Budson is the Chief of Cognitive & Behavioral Neurology at VA Boston Healthcare System, Professor of Neurology at Boston University, and Lecturer in Neurology at Harvard Medical School. Andrew Budson cares deeply about educating others and actively participates in Alzheimer's and dementia-related research studies to continually expand his expertise and knowledge-base. He has published over 100 papers, reviews, and book chapters and is a reviewer for more than 40 journals. Budson has co-authored or edited five books, including Seven Steps to Managing Your Memory: What's Normal, What's Not, and What to Do About It. His current research uses the techniques of experimental psychology and cognitive neuroscience to understand memory in patients with Alzheimer's disease.

A Will is Not Enough: Everything You Need to Know About Estate Planning

The "A Will is Not Enough: Everything You Need to Know About Estate Planning" webinar covered critical estate planning tools that every individual must use to plan for the future. He discussed

the importance of each document and how it works, state and federal estate taxes, long-term care issues and solutions and next steps to prepare for your future and protect your loved ones.

Mark Gilfix is an Attorney at Gilfix & La Poll Associates and co-author of Facing the Reality of Long Term Care. Gilfix cares deeply about generosity and community building in addition to connecting with people and helping them plan for a vibrant future. He currently practices in the areas of Estate Planning, Elder Law, and Special Needs Planning. A Palo Alto native, he graduated from Stanford University with a degree in Management Science and Engineering. He later attended Loyola Law School's evening program, working full time while obtaining a law degree.

Proven Ways to Care for Loved Ones with Alzheimer's and Dementia and Yourself

Author of Pathways: A Guidebook for Dementia & Alzheimer's Family Care Workers and host of "The Kae

Hammond Show: Care for The Family Carer", the hour-long webinar and Q&A covered proven and engaging ways to care for loved ones with Alzheimer's and other dementias, as well as methods to protect your own health in the process.

Kae Hammond is a certified National Alzheimer's Association Facilitator, and since 2010, has led a weekly family carer support group, pro bono. Kae has also served as a California state & national legislative ambassador.
You deserve the best fit.
Make sure you choose the right home care provider for you.
Use our Home Care Company Checklist to help you perform due diligence and select the right care plan for your loved one. Not all home care companies are alike, so make sure you fully vet the agencies to ensure they provide the level of care needed to help your loved one safely age in place.
Educational Book Series

Home Care Assistance is the only senior care company with an award-winning book series designed to educate families and senior care professionals on topics related to healthy ageing in an informative, fun and accessible way. Copies of the books are available for purchase on Amazon.com and below you can read a comprehensive snapshot of the topics the series covers.
Swipe Left / Right For More
Happy to 102

Happy to 102 (Available on Amazon.com.au) is the first book in our senior wellness series and focuses on healthy longevity, which we define as remaining healthy, active, sharp and happy throughout an extensive lifespan.

We are living longer than ever. Centenarians are the fastest growing segment of our population. Before we know it, 102 just may become the new 75. As lifespan increases, we also want to see health-span increase. Happy to 102 lays out all those factors-diet, exercise, sociability, mental challenge, sense of purpose-that make the difference not only in how long we live but in how well we live. Based on groundbreaking scientific research of the longest living people on Earth, Happy to 102 spells out precisely what it takes to delay or escape Alzheimer's and other chronic diseases, slow down the process of ageing and enjoy better health in our senior years. With an emphasis on ageing in place with in-home care, Happy to 102 unlocks the secrets to longevity and inspires us to live happier, healthier lives at any age.

The Brain Boost: A Practical Guide to Brain Health

The Brain Boost: A Practical Guide to Brain Health (Available on Amazon.com.au) is the seventh book in our senior wellness series. Is it possible to rewire the brain to enhance cognitive health as we age?

The Brain Boost: A Practical Guide to Brain Health draws on cutting-edge research from the fields of cognitive science, neuropsychology and medicine to show that anyone can boost his or her brain performance through lifestyle changes. Full of fascinating studies—from explorations of the hippocampi of London taxi drivers to the role of the emotional tone of music in enhancing cognitive function in those with Alzheimer's—The Brain Boost is a highly engaging window into the world of neuroplasticity, or the brain's ability to reorganise itself throughout an individual's lifespan to compensate for injury and disease. The Brain Boost offers practical, everyday tips to support brain health and longevity with a healthy diet, regular physical exercise, socialisation and challenging cognitive stimulation. Combating the idea that cognitive decline is an inevitable part of ageing, this book is a must read for adults of any age eager to harness the power of neuroplasticity to enhance their mental acuity and wellbeing.

The Senior Sleep Solution

The Senior Sleep Solution (Available on Amazon.com.au) is the sixth book in our senior wellness series and focuses on the common causes for sleep disturbance and provides methods to obtaining more restful nights. As we age, our sleep patterns change. Older adults

tend to have more difficulty falling asleep and staying asleep than their younger selves. Quality sleep, however, is essential to our physical health and mental well-being at any age. The Senior Sleep Solution explores the common cases of chronic sleep disturbance and provides practical guidance for seniors and care workers alike on improving sleep quality and reducing sleep disruption. The strategies presented in The Senior Sleep Solution are based on well-researched and easily applied methods and include specific steps for seniors with dementia and various sleep disorders. Armed with the knowledge, families can be proactive about achieving the ever important good night's rest.

Mind Over Gray Matter

Mind Over Gray Matter: A New Approach to Dementia Care (Available on Amazon.com.au) is the fifth book in our award-winning senior wellness series. Dementia affects us all. Nearly half of individuals aged 85 and over are afflicted with the disease. As lifespans

increase, Alzheimer's and other forms of dementia have become the most significant global health challenge of the 21st century. Mind Over Gray Matter represents a new approach to dementia care that offers practical guidance on caring for an individual with dementia as well as evidence-based techniques to improve quality of life and slow the progression of the disease. Armed with this knowledge, families can provide the support and resources their loved ones need to live safely and comfortably at home.

The Five Senses

The Five Senses (Available on Amazon.com.au) is the fourth book in our award-winning senior wellness series and provides information, insights and practical advice to help older adults cope with these changes in sensory awareness. Our senses – sight, smell,

taste, touch and hearing – are our primary mechanisms for interacting with the world around us. As we age, our senses will gradually decline and these sensory deficits can fundamentally change how we interact with our environment. Managing this decline is a crucial component of happy and healthy ageing. The Five Senses provides a detailed overview of the changes we experience in our senses as we age and offers practical guidance on managing this evolution for improved quality of life. Armed with this knowledge, older adults can maintain independence and live comfortably in their own homes as they age.

The Handbook of Live-in Care

The Handbook of Live-in Care (Available on Amazon.com.au) is the second book in our senior wellness series and offers practical, how-to advice on caring for an ageing parent or loved one. Age may be "just a number" for many people, but it also brings

very real daily challenges for a number of older adults. Retaining independence and living in their own homes is integral to the majority of older adults' sense of well-being. However, frailty, illness and forgetfulness can make living at home difficult. The Handbook of Live-In Care gives care workers – usually an adult son or daughter – practical, how to advice on caring for an elderly loved one. From understanding the psychology of home-bound adults to tips for assisting with everyday needs, The Handbook of Live-In Care offers the first definitive guide to maximising the quality of life for an older adult.

From Hospital to Home Care

From Hospital to Home Care (Available on Amazon.com.au) is the third book in our senior wellness series and offers practical advice on how to help make the transition from hospital to home smooth for your loved one. The post-hospitalisation experience

is a source of tremendous anxiety for patients and their families who are faced with coordinating home care after a hospital discharge. From Hospital to Home Care provides a comprehensive overview of the challenges and resources associated with each step in the transition from hospital to home, explaining the discharge process from an inpatient hospital stay, common issues associated with specific medical conditions, the unique needs of a recently hospitalised patients, and the importance of home care in patient outcomes and quality of life. From Hospital to Home Care arms families with the knowledge necessary to navigate the discharge process and arrange quality care for those patients who wish to remain in their homes./div>
Our Approach
We Help Seniors Live Well Where They Prefer: At Home
At Home Care Assistance, we provide customised care to older adults so they can live happier, healthier lives at home. We champion the needs of seniors with a positive, empowering approach to ageing that celebrates independence, dignity, and quality of life. Our care workers receive exceptional training, support, and resources to deliver an unmatched care experience.
eLearning Series for Family Carers

Swipe Left / Right For More
Dementia Care Guide: Strategies for Providing Compassionate, Effective Dementia Care

This e-book provides answers to common questions related to dementia care and gives you the tools you need to meet any situation head-on.


The Complete Guide to Preventing Carer Burnout and Finding Your Self-Care Routine

Do you find that all of your time, energy, and resources going towards supporting a loved one? This eBook gives you the tools you need to minimise daily stressors through minor lifestyle changes and mindset shifts.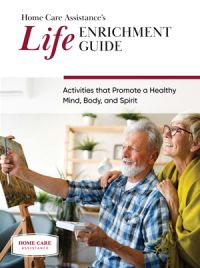 Download the HCA Life Enrichment Guide
Please enjoy the 2nd Edition of our HCA Life Enrichment Guide that aligns with our proprietary program, the Balanced Care Method™. The Balanced Care Method is a holistic approach to senior care that promotes a healthy mind, body, and spirit and is based on the lifestyles of the longest-living people in the world. We have included our 16 favourite virtual activities that you can do to stay engaged and enriched from the comfort of home, Balanced Care-based nutrition and recipes, and activities from our Cognitive Therapeutics Method™
Helpful Links & FAQs

Resources for Older Adults
Listed below are links to many helpful organizations and resources for seniors, their families and care workers. These listings are for informational purposes only and do not represent an endorsement by Home Care Assistance. If you would like more information about our different care offerings, see our Care Services page.
Frequently Asked Questions
The following are some of the most frequently asked questions by families in search of senior care for their ageing parent, grandparent or loved one. If you do not see your question listed below, please do not hesitate to contact us directly where a Care Manager will be more than happy to assist you.
Are You Ready to Get Started?
Home Care Assistance can help you or a loved one today.
Contact us now for your complimentary in-home assessment.
Find Your Local Team
Let us help you
Home Care Assistance can help. Call Your Local Team today for your complimentary in-home assessment.
We have been with Home Care assistance for last three years. I am impressed by the diversity of the services, they provide.I had few carers but the carer, Shweta, has been coming to us for last two

...

years, has been a Godsend. She pushes him to do the things which i am unable to. It's a compliment to Homecare assistance to employ professionals of that standard.No matter what problem I incur, all I have to do is to ring the agency..The eagerness and understanding towards the need of the client is amazing.I would recommend Homecare assistance to anyone and everyone, who requires assistance in all aspects of life.In my case i am grateful of the help i am getting to look after my husband.

read more
I looked long and thoroughly before I selected a care provider for my husband who has dementia. Being with Home Care Assistance for almost a year, has confirmed all my expectations. And more.As a

...

carer I feel very supported by David and Meg. They are always available by phone or email, and this means a lot. But perhaps the best quality of their organisation is the high calibre and personalised choice of all the care givers they have provided for us - whether it be someone to spend time with my husband or someone to slash our overgrown yard.I have no hesitation in recommending Home Care Assistance - and, indeed, have already done so.Pamela Payne

read more
I have changed the company who provided care for my mother to Home Care Assistance who are based at the Gold Coast. With the previous company I had 40 different carers over 3 years and now have the

...

same carer 5 days a week. My mother was with the same big company for 20 years. I requested they send the same carer on certain days but really did not care about my mothers or my needs. When someone is blind and deaf they do not need a carer coming into the house who has not been here before.The carers with Home Care Assistance are paid a better hourly rate than the previous company and their admin costs are far cheaper and now saving $600 a month which can now give me more hours.If you have elderly parents looking to change from the BIG providers give them a call. Michelle and Jourdan have been great to deal with and very caring.I highly recommend this company.They have carers looking for work and need more clients to make the transfer.

read more
I have recommended Home Care Assistance Newcastle to a few friends now. After having a bad experience with another service provider, Kerrie went above and beyond to help my mother, who has dementia,

...

with new services. Kerrie, Mark and their team are compassionate, professional and genuinely care about their clients.

read more
I have received care for the last 2 years so I would like to say how happy I am with the provider. My carer is a well trained ex nurse who has helped me to live a happier life and look after my

...

needs. I am a level 4 and would probably need assistance outside my home without their care.i would reccommend the provider too anyone needing assistance . I have the same carer which is great for continuety of service She notices when I feel unwell without saying anything and looks after me very well.

read more
Exceptional Care and Customer Service - Many thanks to Jourdan Lofthouse the Director of Clinical Care and a RN to boot. I would not have been able to navigate the experience of finding a carer for

...

my elderly mother without his professionalism, compassion and guidance. For anyone having to find a carer to visit a loved one on the Gold Coast I would recommend that Home Care Assistance is their first choice!

read more
Great service helpful staff that can't do enough for you and very reasonable fees
Amazing service with great workers and excellent team managing funds sufficiently. Highly recommend this company
Jourdan and Michelle and their team have been fantastic. I have no idea how i would have gotten thru the last 8 months without them to be there for my mother. I live overseas and have relied on them

...

to be the main support team for my mother ( who has not been the easiest of customers ) . Through it all they have been amazing- so professional and responsive. Easy to contact and provided great updates so i knew exactly what was going on. Mom loved them - you will too

read more
The whole team at Home Care Assist are amazing. I can't begin to tell you how much help Geoff Doherty was to me when I was trying to navigate the Aged Care process. The Coffs Harbour team led by

...

Rachael, who is a wonderful caring and helpful manager, is an absolute gem. My every need is taken into consideration and the staff employed to do the actual caring/cleaning are second to none. Nothing is too much trouble. I need Physio and Hydrotherapy services and Emily, who is also a absolute gem always pays the providers promptly and they are very grateful for that. I would highly recommend this service to anyone looking for Caring, Compassionate, timely and reliable care.

read more
Yes Folks it's all true, you've found the best Age Care Provider on the Gold Coast.Flash Jourdan Lofthouse and his Merry staff are doing great work for my mum and several of her close friends.

...

Ramps, railings, shower ensuite, cleaning, gardening all set up nicely. All in a days work and carefully costed. When you meet and chat to Jourdan you'll be happy to sign up. Julie

read more
Kristi has been nothing but amazing, Couldn't recommend her more !
In November I was looking for a New Provider for my package.Fortunately I found HOME CARE ASSISTANCE in SOUTHPORT Qld.Immediately after my phone call MISCHELLE,and JOURDAN VisitedMy home to

...

explain the care I needed,and immediately everythingWas put into place.My Care Givers are of First class help to me,Highly qualified and have allRelevant TRAINING. FIRST AID-CPR-and Police checks are currentAlso INSURANCE.I am just so Happy with the service,also Quality and Love, given by allStaff.THANK YOU Home CAre Assistance. All my problems are now solvedAnd this is a major relief for my HEALTHI would RECOMMEND your Company to Anyone. THANKS AGAIN

read more
Exceptional service from carer Rebecca. I wouldn't hesitate in recommending Michelle & her service in caring for your loved ones.
Very happy with this Company looking after my Home Care Package. Very friendly staff and always available to arrange things. Also the home care and help in garden is excellent and I couldn't do

...

without them.

read more
Megan is very good care manager.
Homecare assistance is a high quality company run by friendly and highly qualified faces, I could not recommend the company enough to those who need it
Great place to work, very supportive and understanding.
As We are the Family With kid experienced to stay by this agent, I can not recommend this company enough. They genuinely care for their clients, whenever I asked for help a person I contact with

...

always try her best to help that I most thankful for her.

read more
I am very satisfied with the carers who take care of my wife. They are not only experienced but very compassionate and understanding of my wife's needs. They are always positive and easy to deal

...

with. I would have no problems recommending the company to other potential clients.

read more
Our family appointed HCA to assist with care for our father. It turned out to be an excellent appointment.The management and staff were excellent and the carers were outstanding.We highly recommend

...

HCA to any prospective applicants.We would be happy to field direct enquires about the service. HCA have our details

read more
I can't thank the team at Home Care Assistance North Coast enough for their help with my Dad. David led us through the Home Care Package details with honesty and integrity, and they were able to

...

organise a lawn mowing service as well as a carer to visit Dad.My only regret is that we didn't get to spend more time with the team as Dad has now moved into an Aged Care Facility. Thank you again.

read more
Kristi is my personal Carer who does a wonderful job and at the same time she is very caring. Kristi is like one of the family and does not need any direction, she comes and does her work in a

...

professional manner. I also want to say that Michelle & Jourdan who run the Carers company is the best Carer's Company I have ever been with, they are so caring in every way, I wish there were more stars I could give them Congratulations to them, Blessings Rosalie Muir.

read more
High quality, unique approach with a customised care plan to promote independence and client satisfaction.
I cannot speak highly enough of the team at Home Care Assistance. They treated my gran and I like we were close family and always ready to help 24/7. The carers they provided were of the highest

...

standard and loved by my gran. The family appreciated the nature of the carers when they spoke to us about her progress and their recommendations. Nothing was to big or small a task for them to solve.Definitely recommend reaching out to them for home care packages.

read more
A thank you to the team at Hone Care Assistance from the Gold Coast, for taking extrodinary measures to look after my parents. A well organised and professional manner, thank you again..
I really appreciate working for a smaller organization as communication with the team in the office is very important as a support worker in the community.It's really been great to be a part of this

...

company who are a caring team which the clients benefit from as well as the front line workers.

read more
Our family has benefited from the excellent support and services from David, Meg and the team at Home Care Assistance North Coast for the past couple of years. I had an extensive list of questions

...

when we were deciding which provider to go with. David answered promptly, and impressed me with his empathy, accessibility (available after hours, weekends), and ability to tailor a package to meet our particular needs. Add to that the best value for package dollars, and it was an easy decision to go with HCA North Coast.The staff employed by HCA North Coast have been excellent. David was able to source staff who were a good match for my Dad's personality. As our needs evolved, it was easy to change any aspect of the care provided.I am very happy to recommend Home Care Assistance North Coast, for anyone looking for quality care for their loved one.

read more
Great company warm friendly staff
This is the best home care company in Australia !
Great business, would recommend it to friends and family.
Home Care Assistance run by Jeremy and Samantha, a lovely couple with a caring attitude and a family themselves. After bringing my Mum to Sydney and needing expert help immediately I found HCA online

...

and liked their story. As soon as they walked in our door, we knew we were safe. I liked the fact that there was direct contact with the owners and nothing was too much trouble. The carers selected for Mum were perfect for her and very capable. Unfortunately Mum has had to move to a nursing home now but I would happily recommend this wonderful business to anyone with aged care needs.

read more
Happy Christmas to Jourdan my home care manager and thank you so very much for all the help and care you've shown over the year I've been with GCHA, very happy with my home care package and how

...

you've gone over and above many times for me. Much appreciated, have a super new year, catch up with you then. Blessings to you and yours (:-

read more
We were very happy with Home Care Assistance's and dealing with staff was a pleasure. Highly recommend.
David and his team have been outstanding in the help they have offered my father. i would highly recommend them to anyone. First class job!
We have now been with Home Care Assistance for 6 months and we are more than satisfied with the level of care and assistance we receive from our provider. If anyone out there is looking for an

...

exceptional provider that is in this business for the right reasons, look no further than Home Care Assistance. We are so lucky to have Jourdan who looks after all our requirements and is very efficient and professional. A big thank you for making life run a lot easier without added stress.

read more
In sporting circles these days there is an expression used to describe why athletes and teams are supreme champions, it is "they do the one-percenters". To me this is what separates HCA from the

...

other providers I have experienced; they are always cheery when you telephone, they respond with some alacrity to an email, incredibly flexible re scheduling and most importantly from the very first visit by a staff member you are made to feel part of their family.

read more
Great service, lovely people
As a former employee of this company working in the office and as a Carer, I cannot recommend this company enough. They genuinely care for their clients and employees. I loved working there with

...

Jeremy and his staff, but unfortunately had to leave due to relocation. I would not hesitate to recommend HCA Syd East to all clients who are aged and/or with disabilities to engage this service provider for all their vital services to enable you to live and enjoy staying in your own home and to be as independent as possible. Jeremy and his staff really listen to your needs, goals and aspirations and do their very best to match you up with a compatible and suitably qualified Carer. Nothing is too much trouble.

read more
So blessed. Such a wonderful team to take care of me, keeping my life simple and enabling the very best I could wish for. Thank you, Meg and Dave!
At the beginning of this year I interviewed several care companies searching for help with my mum who is totally dependant every day.Mum was quite resistant to the idea of having strangers coming in

...

to her home, she felt very uncomfortable, but I was desperate at the same timefeeling guilty. When speaking with Jourdan as we discussed HCA & theirpolicies, prices, priorities I felt that this was the right company for my mum & I. The interest in my mums needs & her fears were clearly important, which put me at ease making this new journey a little easier.From the 7th March we have received excellent care. Whatever we asked for has been received. The carers who attend to my mum are perfectly matched to her needs, she now feels safe, very comfortable & well cared for, she is also looking forward to their visits. The services we require are cleaning, meals, companionship & most of all friendliness. All of these are of a high standard. Mum & I are very grateful to all at Home Care Assistance Gold Coast. Glenis & Norma

read more
The most helpful, caring, supportive and flexible team of people to assist with our elderly loved ones.I am so grateful for all you had done for my Mum.

...

❤️❤️❤️

read more
Everyone I've interacted with at Home Care Assistance has been friendly, professional and very helpful.My 85 year old mother has settled into her daily routine in her own home very nicely with the

...

care and support received from Home Care Assistance.I have received excellent advice, service and care for my mother and highly recommend this professional organization.

read more
Recently I had a situation where due to a family crisis, I needed respite assistance for a couple of days. Home Care Assistance provided a quick response to my query and were able to get a

...

person for me in time for me to go to my brother's funeral in another state. The person who stayed and looked after my father was very caring, compassionate and reliable. I was extremely happy with the service provided.

read more
excellent staff and great service!
I have been a Home Care Assistance client for 18 months.From day one the kindness and professional manner shown to me by Michelle has been wonderful. I no longer feel like a source of income I

...

feel like a valued friend.I look forward to the visits from Joan, who is often the only visitor we see, and also the the calls from Michelle 'just checking everything is okay'.Changing providers was the very best decision I made. Home Care Assistance genuinely care - about me and about all their other clients.

read more
Great place and would highly recommend!
The carers who looked after my elderly mother were without exception highly motivated, caring and compassionate. Not only was Mum looked after supremely well, she was provided with wonderful

...

companionship, a level of independence that would have been impossible without the help of her special carers, and a lot of fun. It is difficult to put into words how much this meant to her entire family! Keep up the good work.

read more
A positive experience of co-ordinated care and provision of support services to meet my high care level of needs.
The team at Home Care Assistance are extremely caring towards their people and ensure every client has the best quality of life possible. They are a genuine, honest local organisation that would

...

recommend any of my family members use to manage their home care package.Highly recommend Traci and the team at Home Care Assistance

read more
It is the best choice and the best decision I have ever made in my life, choosing the Home Care Assistance in Southport, Gold Coast, they are very accommodating and helpful., very prompt in

...

replying and provide your needs. Assisting and organising home maintenance and modifications, providing a carer that meet your needs appropriately. this was done by Jourdan who I first met and organized from the beginning and now Christina. Michelle is very approachable and accomadating and very cheeerful, happy enough to listen. I highly recommend this organization without hesitation.

read more
Home Care Assistance North Coast have been absolutely wonderful caring for my elderly parents. All their staff have been kind, considerate and very professional. Management is very friendly, always

...

willing to accommodate any needed changes and care greatly about the welfare of both their clients and their lovely careers. Their careers have been absolute angels, to say the least. My thanks go to all the people at Home Care Assistance North Coast.

read more
Home Care Assistance North Coast has really put the CARE back into my aged care experience for my mother.Right from the beginning communication with management (David and Meg) has been excellent

...

with all of my requests and questions answered patiently, promptly and cheerfully.Due to Home Care Assistance's policy of tender care my mother has had hand massages, foot baths and massages, diversional therapy involving music and art, poetry and encouraging Mum to interact positively.Domestic tasks are attended to cheerfully.Blue ribbon service and red carpet treatment for their valued clients. Highly recommended!

read more
I really like working at Homecare Assistance the Office Team are very helpful and they give me plenty of work.
Home Care Assistance Gold Coast is our new Home Care Package Provider because we are moving from NSW to Queensland. When searching for a new provider, I came across this provider and after speaking

...

with Jordan, I felt comfortable in making the change. I look forward to working with Home Care Assistance Gold Coast for my husband's future needs. Since meeting Jordan, I am even more certain of our choice of provider. Anne and Robert Mackay.

read more
Jeremy is a really good man, he has fantastic family values and cares for everyone. I would definitely recommend Health Care Assistance to help you and your family
My husband had two major strokes 6 years ago which turned our lives upside down over night. two years ago we were given the opportunity to look for a provider to help us make life easier at home for

...

my husband. We choose a provider and had them for two years. I can't tell express enough of how that ended up causing us so much stress and anxiety as they were in this business for the wrong reasons, very money orientated as fees were astronomical and the service was equally as bad. My husband even had a bad accident on his scooter where he could of been killed at Helensvale and some low life also stole his mobile phone while he was on the ground so he could not contact anyone but not even a word from my provider to say how sorry they were to hear that, it meant nothing, like I said just in it for the money. After two years I had had enough and found a provider by the name of Home Care Assistance. We have only been with them for one month and already it has made a huge difference to our lives, the stress levels are manageable now as they are absolutely in this business of caring for the elderly and disabled for the RIGHT reasons, they have been nothing but professional, kind and caring and they actually listen to what our needs are even though they are sometimes of the chart, but what counts is that it is to make my husbands life better, he is the one who was unlucky in life to have this happen to a very kind soul at a young age. We needed help and now we have it. The director of this company Michelle and our client advisor Jourdan have been the best and I can honestly say to anyone out there looking for a provider, as there are many, don't look any further than Home Care. If anyone would like to speak to me personally, pls get in touch with HomeCare as I will gladly tell u our story and how important it is that when tragedy strikes and you are a mess, you really need that help and support. I can't thank Home Care enough for everything in such a short time. I feel blessed to have found them.

read more
"Home Care Assistance are the true definition of higher class care. The team at HCA listened to our needs and we weren't just another customer. Our carer arrives on time every time and helps with the

...

difficult tasks like cleaning and washing. The carer also takes us shopping so we don't have to think about driving to the shops anymore. Thank you HCA, we don't worry about how we will live at home anymore."

read more
Would recommend to everyone
Dave and the team go above and beyond to ensure your loved one receives the best possible care
My carer Beccy was perfectly matched to my needs. Michelle & Jourdan are always helpful & I couldn't live comfortably at home without the care from Home Care Assistance Gold Coast.
I switched my Father's Homecare package from a large provider to HCA and I'm so glad I did. From the very first contact I was struck by the degree of professionalism, expertise and friendliness from

...

all I came in contact with. The high standard of care and calibre of the care staff was evident from the beginning and carried right through. Communication was always responsive and timely and nothing was too much trouble. The values of the company and management team have filtered right through to the staff and you feel you are in the company of family who really care, which is very comforting. I have no hesitation in recommending the services of HCA for exemplary care of the elderly in their home.

read more
The staff is amazing, they will try there best to meet all of your needs !
Home Care Assistance are always available to help Mum and Dad. The carers are always lovely and polite. I feel very confident in recommending them to anyone looking for care for their loved ones.
Would highly recommend this home care provider. I am so glad I took my grandmother out of a home care package as we were paying too much in fees. The staff are very attentive and helpful.
Home Care Assistance Gold Coast have been five star in the service and care they've provided for my grandparents. A huge thank you to the professional team behind the scenes who ensure all clients

...

are well taken care of. Highly recommend!

read more
We have the highest praise for HCA as an organisation, and deep gratitude and respect for the people involved - all the way from Dave & Meg at the top right through office staff and on to the

...

wonderful warm carers who have meant so much to our mother over the last three years. From our experience HCA offers a service far beyond the general expectations of the aged care sector, and we have no hesitation recommending them. Thank you HCA, for all that you've done for Mum - and for us by extension.

read more
Great company, would definitely recommend. The employees are superb
Would recommend this company to absolutely anyone! They pride themselves with quality service!
Would definately recommend, Kristy is the best :-)