Music has long proven to promote wellness and healing – physically, psychologically, and emotionally and is used for this purpose routinely by in home care agency care workers and aged care services.
Research has shown that the curative effects of playing and listening to music, as well as singing and dancing to music, can modify emotions, help manage stress, improve movement and mobility, even enhance communication and cognitive ability. It seems to be especially beneficial in caring for those with Parkinson's.
Parkinson's and Music Therapy
Parkinson's is a neurodegenerative disorder that can severely limit a person's movement and mobility, increasing the need for in home care services or aged care services. It can also trigger varying degrees of dementia in seniors. The disease causes problems with motor coordination, especially in initiating movement, sustaining consecutive movement, and controlling the speed of movement. Over time, the brain's ability to manage movement gets derailed by the disease and in home care services are needed for support.
The good news is that neuroscience research continues to prove that music therapy can be extremely effective in addressing the physical limitations and struggles that result from the disease including speech and communication deficits. By activating certain sectors of the brain that control these behaviours, music therapy can be very beneficial in caring for those with Parkinson's.
5 Ways Music Can Improve Parkinson's Symptoms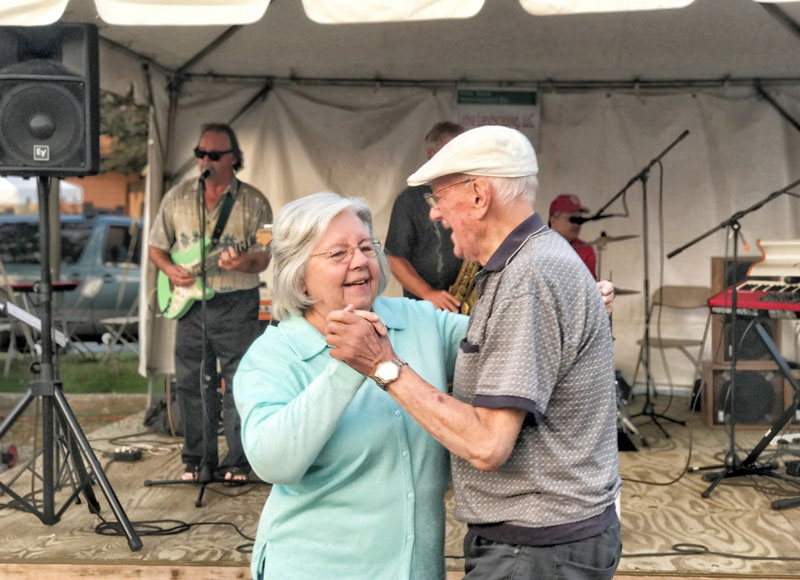 Studies show that music can stimulate the production of dopamine and serotonin, two neurotransmitters (chemicals produced by brain cells) that tend to be damaged by the symptoms of Parkinson's. The benefits of music therapy include:
Improved rhythm and gait. Music-based movement (MbM) therapy can help restore a more normal rhythm and improve gait-related activities. It helps trigger the brain to respond better to movement. Rhythm plays a crucial role in rehabilitation, enhancing connections between the motor and auditory systems. Music therapy has been clinically proven to help improve the speed and length of a step, as well as motor timing ability.
Improved speech and communication. Individuals with dementia often have difficulty articulating their words, making speech slurred and unclear. This may be caused by breathing issues and/or the motor aspects of speech. Singing therapy is especially beneficial as it encourages greater breath control by sustaining single syllables. If a patient also responds to music by tapping their hands or their feet, it can also aid in hand-eye-brain coordination and clarity of speech. In home care workers are great at supporting both singing and music therapy.
Tremor control. Sometimes an individual can't stop the tremors or involuntary movements, referred to as dyskinesia. The urge to move may overrule the need to relax and may even disrupt sleep. In these instances, slow rhythmic music can slow down overactive body rhythms and help induce relaxation and sleep. An in home care agency worker can identify this need and support it when providing in home care services.
Enhanced emotional wellbeing. Not only does the brain change when listening to or playing music, but the emotional response to hearing music can increase the release of dopamine, which appears to be lacking in those living from Parkinson's. Dopamine is known as the feel-good neurotransmitter—a chemical that carries information between neurons. Music therapy helps patients focus on the enjoyment of moving to music rather than dwell on their mobility limitations requiring care for the elderly.
Reduction in psychological symptoms. In addition to enhancing motor skills and coordination, music therapy can also help mitigate the psychological symptoms of Parkinson's such as anxiety and moodiness, as well as sleep disorders. Parkinson's can cause depression and social isolation in seniors. Participating in music therapy groups which involve drumming, dance, and singing can provide an outlet for self-expression and a closer connection to others and in home dare services can provide transport to groups or conduct similar activities in the home while ageing in place.
Music Therapy Guidelines for Parkinson's Caregivers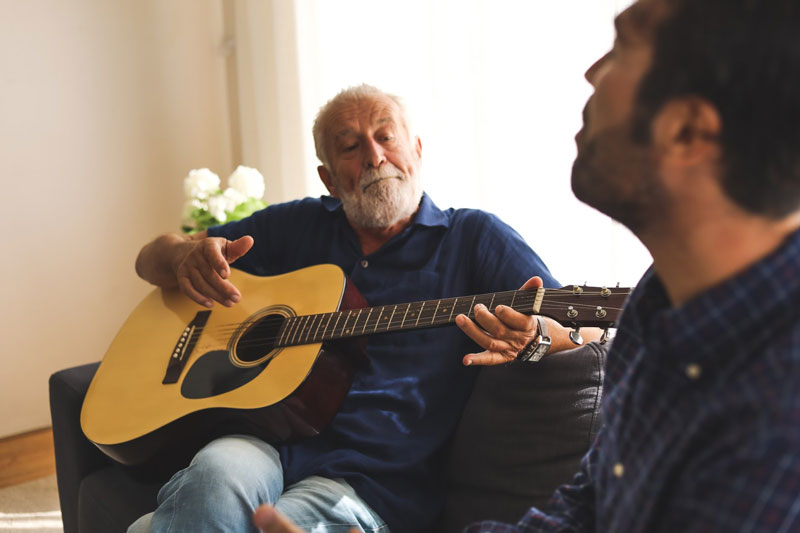 While there are many support groups and programs for music therapy, family carers and those providing in home care services or aged care services can also develop their own music therapy program. Family carers should be urged to incorporate music into a daily routine. Following are six easy suggestions:
Create a music library. Put together personalised playlists of your loved one's favourite songs and musical scores – music will encourage both movement and singing. Share the list with your in home care agency so that the nurse at home or aged care services can use the lists and incorporate this activity in their care in the home.
Make sure you have music "to go." With so many digital mobile devices today, it's easy to have music readily available at any given time or place. A mobile phone, iPod, tablet, or portable CD player are all you'll need to play music while you're at home, in the car, or out and about. Bear in mind that a simple CD player may be easier for someone with Parkinson's to operate if they are ageing in place.
Start singing. Schedule a "sing along" session at the same time every day. Play a favourite tune or musical score and sing along together. In home care services can happily ensure this occurs during their care for the elderly as well.
Play musical instruments. Encourage your loved one if they can still play a musical instrument like guitar, piano, violin. Even if they are wheelchair bound, you can get them to follow the beat of music with a simple to use instrument such as a tambourine, wooden maracas, or a small set of bongo drums.
Dance like nobody's watching. To the extent your loved one is mobile, get them to dance, or at least sway, with the music. Dancing can improve brain health and can also help with Parkinson's symptoms. My father who had Parkinson's disease loved to dance and was a fabulous dancer in his day. While he couldn't jitterbug or swing the way he once did, whenever I came to visit, we would slow dance around the living room together. My mum took pictures of us dancing and put them by his bedside. When we needed in home care support, our home care agency worker happily continued this activity.
Provide music to fall asleep by. Tranquil, lullaby-like music can be used as a sleep aid, so set up a special music library of those favourite melodies as well. Soothing soundtracks of lapping waves or soft rain, and other relaxing meditation music can be easily played on a bedside clock radio or CD player.
Heart-warming Stories of Music to Mend the Mind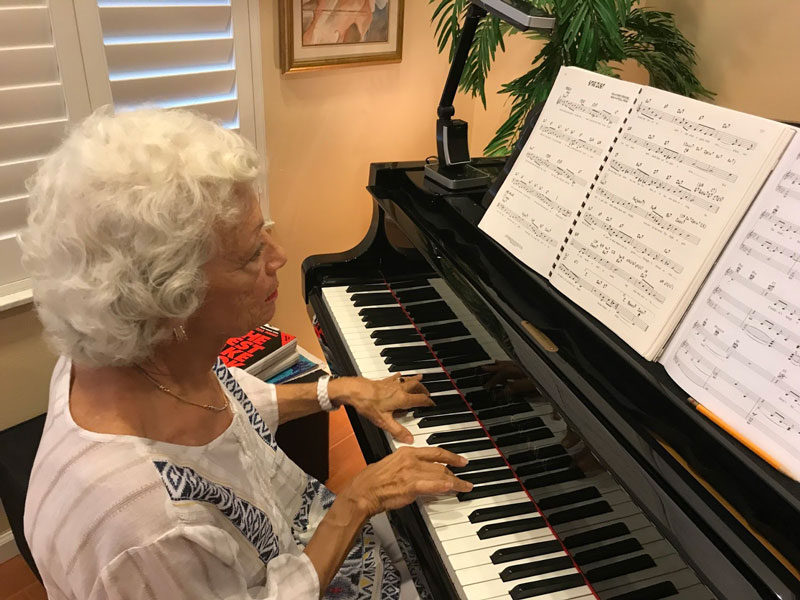 Even if Parkinson's disease has progressed and caused cognitive change and/or movement challenges, music therapy can help. A video posted by a physical therapist on Facebook several years ago garnered more than 9 million views. It featured a 73-year old man who, a decade after being diagnosed with Parkinson's, was once again able to dance with his wife thanks to the therapeutic power of music.
In another poignant video that went viral, former New York City prima ballerina Marta C. González—who was living with Alzheimer's disease and in a wheelchair —recognised Tchaikovsky's classic Swan Lake. Upon hearing the music, she began moving her arms performing the exact same dance routine from the waist up that she performed so long ago. Music can awaken the deepest parts of our memories and get us moving again.
According to members of the 5th Dementia, an unconventional group of musicians who have all been diagnosed with some form of dementia, music can in fact mend the mind. Their twice-weekly jam sessions have brought about a remarkable transformation in each musician, highlighting the power of music in dementia care. While they may not be able to remember what they had for breakfast, the universal language of music enables them to communicate in a different manner, express their emotions and connect with others on a deeper level.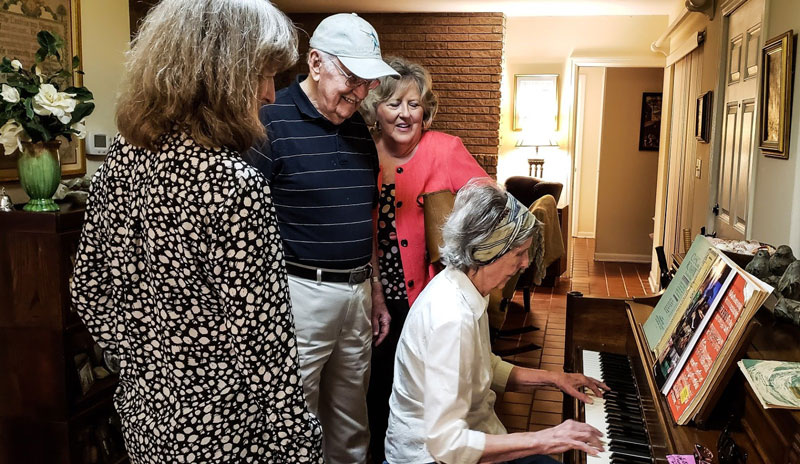 Everyone has some inherent rhythm (even those who swear they can't dance!) And for those suffering from Parkinson's, an active music therapy program with singing and dancing and listening to music, can not only help improve their movement and motor skills, but also their emotional health and well-being.
Resources:
https://www.parkinsons.org.au/
https://www.dementia.org.au/sites/default/files/helpsheets/Helpsheet-TipsToAssistSocialEngagement05_TipsForMusicAtHome_english.pdf
As a leading age care provider, Home Care Assistance offers tailored in-home care services for older Australians, enabling them to live happier and healthier lives in the comfort of their own homes. 
We offer private and government subsidised Care Packages and have office locations that are a registered NDIS provider. Our Care Workers undergo extensive training in order to deliver unmatched in-home aged care services where people can continue ageing in place. We are proud ambassadors of the My Aged Care government funded aged care program, enabling Australians to successfully navigate the process and gain approval for in-home care support packages. Home Care Assistance offers hourly care, specialised care, Alzheimer's and Dementia care, hospital to home care, and 24 hour in home care.