The Importance of Independence
Seniors value their independence. Independence and control are empowering. As we age, our support needs change. That doesn't mean seniors need to lose their independence. If you have a loved one who needs more support, here are some ways to help them remain independent.
Many seniors worry about losing their independence. Change is difficult. Older adults are proud of the lives they've lived and don't want to feel limited as they age. If you're helping an aging loved one, remember that everyone wants to have control over their life. Take the time to learn about what is important to your loved one. Then, find creative ways to ensure they can keep those important things. Hobbies and interests give us all a sense of purpose.
For example, maybe your mom loves to garden, but it's difficult for her to get down on the ground to tend her garden beds. You could set up a simple potting bench and a window box for her. This would enable her to garden independently by removing barriers. Quality of life is important, so you should focus on empowering your loved one to do the things they love.
Environmental Modification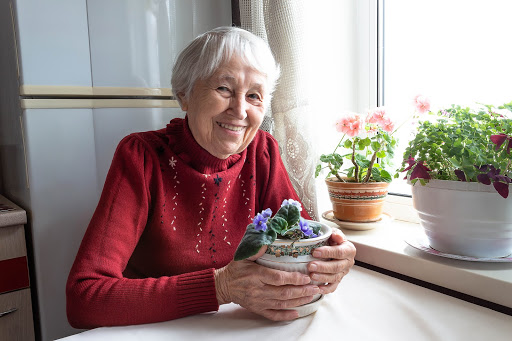 There are simple changes to the home that can help your loved one remain independent. Many seniors want their homes to look inviting. They're reluctant to use items that look like medical equipment.
Luckily, there are a lot of simple changes that you can make that will make your loved one's life easier. Many of them look subtle. Subtle changes make seniors more comfortable making their environment more functional.
Here are some environmental changes you can consider.
Move things downstairs.
If your loved one lives in a home with stairs, consider primarily using downstairs rooms. Make sure their bedroom is downstairs.
Modify showers.
Showering is sometimes difficult for seniors. Seniors often have less balance than they used to. Handrails and shower chairs can make showering safer.
Incorporate comfortable furniture.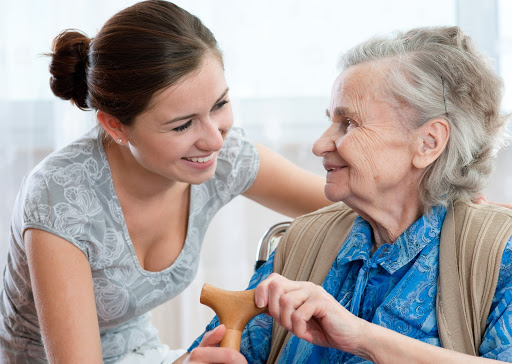 Sometimes seniors have difficulty getting up from sitting. Higher couches and chairs make it easier to get up. Make sure your loved one has a few places to sit throughout the home. You don't necessarily need to choose specific adaptive furniture. Look for regular couches and chairs that have higher, firmer seats. Make sure the seats aren't too deep, so it's easy to lean back.
Remove tripping hazards and install handrails.
Thick rugs and inconveniently placed furniture can cause tripping. Go through your loved one's home and remove potential hazards. Consider installing handrails in high-risk areas, like porch steps.
Install outdoor lighting.
As we age, it becomes difficult to see in the dark. Install outdoor lighting with an automatic timer to reduce fall risk.
Ensure drawers, cabinets, and doors are easy to open.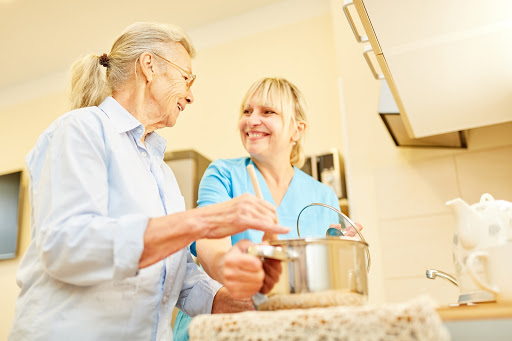 If your loved one has old drawers and doors, consider updating hardware to make them easier to open. You can install tracks inside drawers that make them slide open with minimal effort. Re-hanging doors will ensure they open and close easily and prevents sticking. This will make a huge difference if your loved one experiences frailty or arthritis.
Technology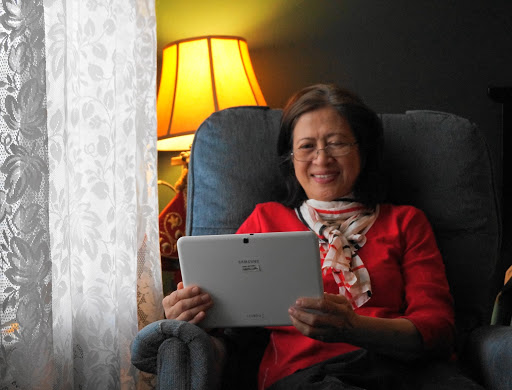 Modern technology can make life a lot easier for all of us, including seniors. Voice-activated devices can help seniors who are less comfortable with electronics. Voice-activated devices can tell the time, set alarms, play music, and make phone calls. You can even connect them to other electronics in the home, like lights and thermostats. If your loved one is less mobile, they might appreciate using a voice command to turn the lights off before bed.
In addition to voice-activated devices, here are some other technology options for seniors:
Phones with large buttons
Tablets for video calls
E-readers for reading books with large fonts
Home Help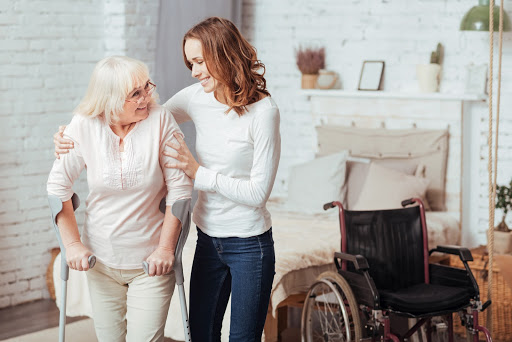 Part-time help can go a long way towards helping seniors remain independent. If your loved one is still mobile and active, they may enjoy weekly help with routine chores. If your loved one has higher support needs, more frequent help may be necessary. Home health providers offer a variety of in-home services.
Some examples of help that your loved one could receive include:
Weekly laundry help. This could include washing, drying, and putting away laundry, including bedding.
Strenuous housework. Yardwork, vacuuming, dishes, and taking out the trash can all be strenuous.
Meal preparation. If your loved one has difficulty cooking, they could have someone prepare their meals. If someone prepares meals weekly, your loved one can heat up the prepared meals as they need them.
Administrative help. This could include filling a weekly pill tray, sorting mail, and scheduling appointments.
Grocery delivery: A care provider can shop for your loved one. You could also arrange for a grocery delivery service.
Some seniors need support with direct care tasks, such as dressing and hygiene tasks. Home health providers can support these needs as well. If your loved one shows signs of needing some help around the house, start with a few hours a week of general support.
Many seniors are reluctant to accept support at first. In reality, most of us could use support as we go about our lives. By normalizing support, you'll help your loved one become comfortable accepting help. This will empower your loved one to advocate for their needs as those needs change.
Simple changes can make a huge difference in seniors' quality of life. These changes help seniors remain independent at home. They enable them to focus on the things they love, which is what makes life meaningful.
As a leading age care provider, Home Care Assistance offers tailored in-home care services for older Australians, enabling them to live happier and healthier lives in the comfort of their own homes. 
We offer private and government subsidised Care Packages and have office locations that are a registered NDIS provider. Our Care Workers undergo extensive training in order to deliver unmatched in-home aged care services where people can continue ageing in place. We are proud ambassadors of the My Aged Care government funded aged care program, enabling Australians to successfully navigate the process and gain approval for in-home care support packages. Home Care Assistance offers hourly care, specialised care, Alzheimer's and Dementia care, hospital to home care, and 24 hour in home care.